Location of the ACA 2006 Conference
The ACA 2006 Conference will take place in the International Home of Scientists (IHS) "Frederic Joliot-Curie", located in the resort "St. Constantine and Helena" near Varna, Bulgaria.
<![if !vml]>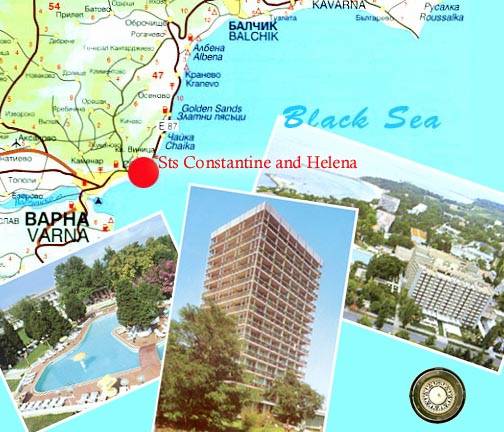 <![endif]>
The International Home of Scientists and its surroundings.
(http://www.usb-bg.org/English/hause.htm)
The resort St. Constantine and Helena (most often called St. Constantine) is the oldest Bulgarian Black sea resort. It is located in a beautiful natural park with a wonderful combination of sea coast, woods and hot mineral springs. The resort is only 8 km. from the town of Varna, and is connected to it by a highway with regular bus transport throughout the year. Car service facilities, car wash and oil/gas station are available at the resort.
At the middle of the resort stands the International Home of Scientists (IHS) boring the name of Frederic Joliot- Curie. For over thirty years it has been a gathering point for scientists from all over the world offering good opportunities for meetings, congress tourism and nice vacations.
The home provides five multifunctional conference rooms meeting all international requirements.
The home meets all requirements of a three stars hotel.
The restaurant of the home has a great variety of specialties from the Bulgarian and international cuisine.
The center of balneology in the IHS provides the following facilities and services: covered pool with mineral water (free of charge), fitness hall ( also free of charge), sauna, manual and water massage, water therapy procedures such as: mineral, herb, pearl and cosmetic bath tubs, electrical therapy, inhalations, acupuncture, manual therapy.
The IHS has its own beach.