Summer School ALCCAL' 2000
"ALGEBRAIC COMBINATORICS AND
COMPUTER ALGEBRA"
September 3 - 14, 2000, Varna, BULGARIA
First Announcement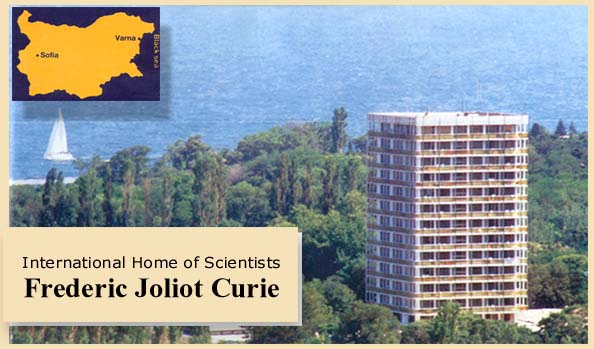 Place of the ALCCAL'2000 Summer School
Main idea
Scientific Community
Structure of the meeting
Method of organization
Description of the place and available facilities
Payments and deadlines
Registration form
Abstracts
Important dates

We are organizing a summer school with the above title in Bulgaria on the coast of Black Sea from September 3 to September 14, 2000.
The duration of the summer school will be 12 days, including 8 working days, 2 excursion days and days of arrival and departure.
Sponsorship was not sought for the meeting and so we are unable to give any financial support to the participants. Everything is based on the enthusiasm of the organizers and our guests.
In a sense the idea of this meeting is similar to the idea of the First International Conference on Algebraic Combinatorics in Vladimir, USSR, August 1991. We think that the present time in Bulgaria is most appropriate: this country is striving to become a major tourist and recreational attraction. Thus we have been able to find reasonable prices at a high level of service.

Scientific community
Algebraic combinatorics is a field of mathematics which was recognized "officially" 10-15 years ago. The name itself came from the Japanese mathematicians E. Bannai & T. Ito who published a book with such title in 1984.

Roughly speaking, algebraic combinatorics deals with highly symmetrical combinatorial objects (graphs, designs, codes etc.). What "high symmetry" means can be rigorously formulated in terms of the action of the automorphism group of the object. One of the most beneficial ways to consider this is that the requirement of transitivity (primitivity) of the action of a certain group is substituted by weaker assumption of combinatorial regularity. For example, parallel consideration and classification of rank 3 graphs and strongly regular graphs is one of the areas in algebraic combinatorics. The techniques used in algebraic combinatorics is in a sense an amalgamation of methods from group theory, linear algebra, graph theory, number theory and representation theory. Extensive use of computers and especially of computer algebra packages is an essential feature of this area.

There are hundreds of mathematicians working in algebraic combinatorics as it is defined above. A lot of research deals with allied areas: design theory, topological graph theory, diagram geometries, finite fields and its applications, coding theory, applied statistics, etc. and these have a deep and long-standing dependency on algebraic combinatorics.

The main target of our summer school will be all theoretical aspects of algebraic combinatorics. This will be supplemented by various links with coding theory. Other important components of interest will be computer algebra systems and in particular use of modern computer systems (for example GAP, GRAPE, DISCRETA, COCO and others) in algebraic combinatorics.

Structure of the meeting
The period of the school is September 3 - September 14, 2000.
Sunday, September 3 will be the day of arrival, 8 working days will start from Monday, September 4 until Wednesday, September 13, with an interruption for two excursion days.
Thursday, September 14 will be a day of departure and/or optional excursions. The standard package for the participants will be 11 nights from Sunday, September 3 till Thursday, September 14. Shorter packages (of at least for 7 days) will also be available.
During each of the 8 working days there will be two sessions, each of 3-4 working hours. The main body of the summer school will be covered by 8-12 short courses, each consisting of 2-4 hour lectures. These mini-courses will be given by prominent leading experts in algebraic combinatorics who have an approved reputation as excellent speakers.
Each participant (including organizers) will be invited to submit a 30 minutes contributed talk. Such option will be open to everybody who register before the deadline. If necessary, parallel sessions will be organized.
We will also organize a few poster sessions for ad hoc contributions.
Other suitable ideas for social outings (besides excursion days) will also be considered which will involve accompanying persons (daily) and all participants (at evening time).

The abstracts of all contributed talks will be available at the time of registration.

At this moment we have the following preliminary arrangements of the short courses (those marked by the sign * are finally confirmed):
Table algebras and their applications to finite groups (Zvi Arad*, Israel);
Association Schemes in Statistics (Rosemary A. Bailey*, England);
Graph Embeddings and Galois Groups (Gareth Jones*, England);
Group theoretical methods for constructive enumeration in combinatorics (Reinhard Laue*, Germany);
Constructive enumeration of graphs (Brendan McKay, Australia);
Isomorphisms of Cayley graphs (Mikhail Muzychuk*, Israel);
Cayley Graphs in Theoretical Computer Science (Gottfried Tinhofer*, Germany);
Structural approach to association schemes (Paul-Hermann Zieschang*, Germany);
Normally regular directed graphs (Leif Jorgensen*, Denmark);
Selected topics of coding theory (Anton Betten*, Germany).


The final list of short courses will be included in the second announcement which will be sent to everybody who will reply on this announcement.

Method of organization
Programme Committee (PC):

Dr. Igor Faradjev

Research and Design Manager

Design Technology Group

Synopsys

700 East Middlefield Road

Mountain View, CA 94043

USA

e-mail: iaf@synopsys.com

Prof. Ted Hurley

National University of Ireland

Galway, Ireland

e-mail: Ted.Hurley@nuigalway.ie

Prof. Dr. A. Kerber

Lehrstuhl II fur Mathematik

Universitaet Bayreuth

D-95440 Bayreuth

Germany

e-mail: kerber@btm2xh.mat.uni-bayreuth.de ,

kerber@uni-bayreuth.de

Prof. Mikhail Klin

Department of Mathematics

Ben-Gurion University of the Negev

P.O.Box 653, Beer-Sheva 84105, Israel

e-mail: klin@cs.bgu.ac.il
All inquiries regarding the scientific program should be addressed to M.Klin.
Local Organization Committee (LC):

Prof. Dr. Stefan Dodunekov

Institute of Mathematics and Informatics,

Bulgarian Academy of Sciences

Acad. G. Bonchev Str., Bl. 8

1113 Sofia, Bulgaria

e-mail: stedo@moi.math.bas.bg

Associate Prof. Dr. Daniela Nikolova

Institute of Mathematics and Informatics,

Bulgarian Academy of Sciences

Acad. G. Bonchev Str., Bl. 8

1113 Sofia, Bulgaria

e-mail: dani@math.bas.bg

Research Associate Margarita Spiridonova

Institute of Mathematics and Informatics,

Bulgarian Academy of Sciences

Acad. G. Bonchev Str., Bl. 8

1113 Sofia, Bulgaria

e-mail: mspirid@math.bas.bg

Blajka Radeva

Institute of Mathematics and Informatics,

Bulgarian Academy of Sciences

Acad. G. Bonchev Str., Bl. 8

1113 Sofia, Bulgaria

e-mail: lpmivt@vt.bia-bg.com
Note that most part of the work of Programme Committee and Local Committee will be done in the framework of their usual academic duties.

Description of the place and available facilities
The resort St Constantine is the oldest Bulgarian Black sea resort. It is located in a beautiful natural park with a wonderful combination of sea coast, woods and hot mineral springs. The resort is only 8 km. from the town of Varna, and is connected to it by a highway with regular bus transport throughout the year. Car service facilities, car wash and oil/gas station are available at the resort.

In the middle of the resort stands the International Home of Scientists "F. Joliot-Curie". For over thirty years it has been a gathering point for the scientists from countries all over the world offering ideal opportunities for summer vacation, congress tourism and balneologic therapy. The house meets all the requirements of a three star hotel. In the house are five multifunctional halls equipped with all modern facilities and meeting all international requirements. The tradition and experience in the organization of congresses, symposia and workshops have made the house renowned in the international scientific community. It has its own beach. The restaurant has a great veriety of specialties from the Bulgarian and international cuisine, as well as the best Bulgarian wines and spirits. The panorama- cafe has a wonderful view of the sea and the resort itself. The park features a cactus' garden unique in Bulgaria.

The following facilities and services are available at the balneology therapy center: covered pool with mineral water (free of charge), fitness hall ( also free of charge), sauna, manual and water massage, water therapy procedures such as: mineral, herb, pearl and cosmetic bath tubs, and also group and individual medical exercises, electrical therapy, inhalations, acupuncture, manual therapy.

Single and double rooms (with showers) as well as a few apartments will be available for the participants and their companions.

Payments and deadlines
Registration fee: $100 till June 30, $120 later.
For students and young researchers: $70 till June 30, $120 later.

The registration fee covers: admission to lectures, conference materials, cocktail, banquet, coffee breaks, excursions.

Registration fee for spouses: $50. This covers the non-academic activities of the school.

We suggest that all participants and accompanying persons take the whole package, including full board in the hotel, although short packages (for at least half of the period) are also possible.

Prices of the accommodation and meals (for the whole period) are as follows:
Single room in the hotel + meals: $430
A bed in double room + meals: $350
For families there is a just a few apartments with a shower, including two beds of price $20 each, and two pliable beds of half price, i.e. $10 each.
For those who rent an apartment meals will be available for $12 per day (for one person).

There is no hotel charge for children under 2 years of age.

Balneological facilities will be available as well (the price list is available from LC). The fitness hall will be free of charge for the participants.

Payment in advance is preferable.

Due to the limited number of apartments they will be booked in order of the advanced payment.

Acceptable methods of payment:
Bank transfer to BULBANK (see details below);
Institutional check sent to the address of the Local Committee;
Payment (in cash) on arrival.
Bank details:
Bank name: BULBANK Ltd., Kaloyan Branch

Bank address: 3 Kaloyan Str., Sofia 1000, Bulgaria

SWIFT: BFTBBGSFKAL

Bank Code: 62175395

Bank account: 3100043212

Beneficent: IMI - BAN (for ALCCAL'2000)

Bank Phone: (359 2) 868 42 00,

Fax: (359 2) 980 33 13
Registration form
Please, click here for access to the registration form.

LaTeX-version of the registration form is also available.
Please, fill in the information and send the form to the e-mail address of the LC:

or by fax: (359 2) 971 36 49, For ALCCAL'2000

or as a hard copy to the following address of the LC:

ALCCAL'2000 Summer School

Institute of Mathematics and Informatics,

Bulgarian Academy of Sciences

Acad. G. Bonchev Str., Bl. 8

1113 Sofia, Bulgaria
An example of abstract in LaTex form can be used.

Important dates
Early registration for the School: June 30, 2000
Deadline for submission of the abstracts: July 15, 2000.

Click here for the LaTeX - version of the First Announcement.

Clich here for the Second Announcement
Last updated on August 21, 2000.